REGISTER FOR A FREE TRIAL
Track & Respond To Reviews
Generate Reviews
Automate your customer feedback process to encourage positive reviews.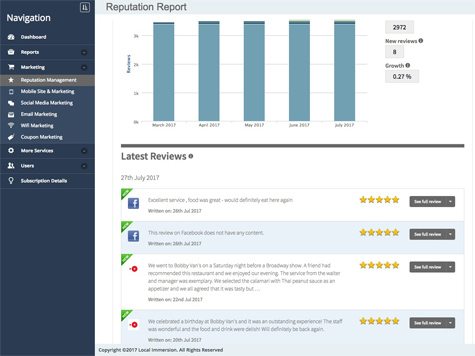 Take Control of your Reputation
Harness the Power of Positive Reviews.
Our Reputation Module helps you automate the customer feedback process, gather testimonials and online reviews.
Our proven system helps you get a 5-star reputation, while suppressing bad reviews.
Responses are automatically filtered by our software. Negative feedback is suppressed and can be addressed privately. Positive feedback is conveniently linked to popular public review sites of your choice.
Protect your brand — quickly and easily address customer satisfaction issues before they escalate.
Turn your happy customers into positive online reviews and ratings.
Reputation Marketing
Reputation Management and Brand Marketing go hand-in-hand. You need to build a positive online reputation and use that positive reputation to get customers to trust your brand. Almost all businesses today are operating in a highly competitive market, a market that encourages consumers to go online and post comments or complaints on review sites and social media. When you do what it takes to ensure a great customer experience, you want that customer to tell their friends and family about the great experience they had with your business. Finding the right review sites and networks to post and publish these five-star reviews not only promotes your business but also gives consumers the information they are looking for when researching the right place to buy something and comparing similar providers of services and goods. Reputation marketing allows you to position your business as the market leader for prospective customers searching online.